Hiện bộ gõ=phím F8
PRESS F9 to turn on/off the unicode typing method. Bộ gõ Tiếng Việt kiểu VNI đã mặc định bật, bấm F8 để hiện trạng thái bộ gõ và hiệu chỉnh khi cần.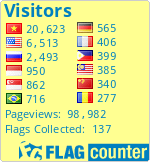 Hi.

May I know how to hook GenBot on Garena Plus and play at same time? Any guide?
New Member





Posts

: 2


Join date

: 2012-11-08



Download the bot (wait for some minutes, v1.51 is being updated) to host games on bnet + garena room

After you get the bot work to hosting a game on bnet, ppls + you can join that game. Then

For hosting on Garena, there are 2 solutions:
1. Run GhostOne GUI normally as usual & hook to a garena room to host on 1 room
2. Another solution is to use GCB (a third party program called Garena Client Broadcaster run on cmd with Java installed) for hosting on multiple rooms with 1 garena username. You must use different username to play as that's for the bot.

- - - - - - - - - - - - Your signature - - - - - - - - - - - - -
Garena nickname G.M.Bot
Please post on forum first, because I may not be around in Garena.
Admin





Posts

: 148


Join date

: 2012-02-26



It cant detect my Garena Plus. People cant see my game, not hooked to Garena I guess. Last time I remember I use on Garena Classic got some message telling me hooking success, but this time it fail for Garena Plus. If you dont mind can clarify more using GhostOne GUI method?
New Member





Posts

: 2


Join date

: 2012-11-08



It works for Garena Plus. You just have to follow
[You must be registered and logged in to see this link.]
Are you sure you followed that? It should work
Admin





Posts

: 148


Join date

: 2012-02-26




---
Permissions in this forum:
You
cannot
reply to topics in this forum