Hiện bộ gõ=phím F8
PRESS F9 to turn on/off the unicode typing method. Bộ gõ Tiếng Việt kiểu VNI đã mặc định bật, bấm F8 để hiện trạng thái bộ gõ và hiệu chỉnh khi cần.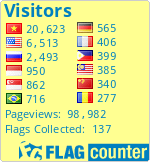 PLS make a new thread for questioning
The tutorial won't help if you use the boost138 you downloaded from anywhere else. Just follow these steps and do exactly as it states.
Step 1: Download these and extract.
[You must be registered and logged in to see this link.]
[You must be registered and logged in to see this link.]
Step 2: place libboost138 headers to your root\
GhostOne directory
\boost\lib
Step 3: open
[You must be registered and logged in to see this link.]
and add the libraries, directories. VC++2010 will NEVER work with boost138. Please use VC++2008
In Project Properties (Alt+F7)
Code:

- In General Tag, Ghost is set to ..\Release and Intermediate ..\Obj
and
- Check to DISABLE 64bit portability issue detect for every project in C/C++

- Make sure the C/C++ has ..\bncsutil\src;..\StormLib;..\zlib\include;..\mysql\include;C:\libboost138 (if you extracted pre-compiled libs boost138 to C:)

- Linker>General>add libboost directory to Additional Library Directories (make sure the Linker General has ..\zlib\lib;..\mysql\lib\opt;..\boost\lib;C:\libboost138 )

- Linker>Input>Additional Dependencies> obj & lib files added by typing, shell32.lib (make sure the Linker>Input has ws2_32.lib winmm.lib zdll.lib StormLibRAS.lib libmysql.lib shell32.lib )

- Linker>Command Lines>/FORCE:MULTIPLE
if your have a LNK problem, a possible fix is to change all projects' Output Directory $(SolutionDir)$(ProjectName)\$(ConfigurationName) and Intermediate to $(OutDir)
Tool>Option>Project and Solution
Code:

Build and Run, reduce the parallel project builds to 1
Ensure Boost_1_38_0 folder is INCLUDED to VC ++ Directory as library directory
Step 4 (not necessary, you can skip this if you only build a solution for ghost.exe): check project dependencies to make every project linked to each other if you choose to build all solutions (for ghost.exe, update_dota.elo.exe,..)
Step 5: Make sure you choose Release MySQL in Build>>Configuration Manager before building a solution for ghost.exe
If every is all set, your compilation'd be successful with no error.
Step 6: Click on ghost project and F7 to build a solution for ghost.exe
If you have any errors, clean the solution and then rebuild should work.
- - - - - - - - - - - - Your signature - - - - - - - - - - - - -
BUNNY (\__/)
FUNNY (='.'=) TheGenMap. Official Support Forum
GENIE ('')_('') for all games Gen created and much more.
PLS upload your files on
[You must be registered and logged in to see this link.]
public folder and link them here.
[You must be registered and logged in to see this link.]
Admin





Posts

: 131


Join date

: 2009-08-03





Similar topics
---
Permissions in this forum:
You
cannot
reply to topics in this forum