Hiện bộ gõ=phím F8
PRESS F9 to turn on/off the unicode typing method. Bộ gõ Tiếng Việt kiểu VNI đã mặc định bật, bấm F8 để hiện trạng thái bộ gõ và hiệu chỉnh khi cần.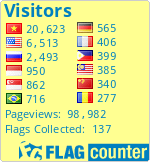 i need to download GCB7.z link?!
- - - - - - - - - - - - Your signature - - - - - - - - - - - - -
BUNNY (\__/)
FUNNY (='.'=) TheGenMap. Official Support Forum
GENIE ('')_('') for all games Gen created and much more.
PLS upload your files on
DropBox
public folder and link them here.
Hướng dẫn sử dụng các lệnh đặc biệt trong Gen host
Admin





Posts

: 131


Join date

: 2009-08-03



When I run gcb.jar with cmd.. everything goes fine but when i start GhostOne it hosts only in 1 room.. but the account in 7 róoms..
Uncheck hooking to garena and try not to hook to the room.
And Please notice that this is not an official forum for supporting you about using the GCB program and troubleshooting your issues. You may want to make your question there
.
Admin





Posts

: 148


Join date

: 2012-02-26



Its not hooked.. GCB doesnt even hook...
its done.. hơ to make map cycl
example: by making your bot like this (in ghostcfg)
autohost_map1 = game1.cfg
autohost_map2 = game2.cfg
the bot will make game1,game2,game1,game2,...forever (ofc unless you turn it off).
long list of autohost_map
s
will take more time to back to the 1st game.
v1.3 automatically cycles all maps in your list of autohost_map
s
. You may want to re-read user guide & version info.
Working with mapcfgs
For other problem, try with troubleshooting part to find the solution urself before asking. Only ask if you can't find the your issue & the answer anywhere.
Admin





Posts

: 148


Join date

: 2012-02-26




---
Permissions in this forum:
You
cannot
reply to topics in this forum