Hiện bộ gõ=phím F8
PRESS F9 to turn on/off the unicode typing method. Bộ gõ Tiếng Việt kiểu VNI đã mặc định bật, bấm F8 để hiện trạng thái bộ gõ và hiệu chỉnh khi cần.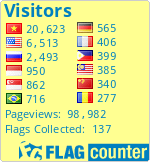 Originated by ukaf.b. Big credits to him.
This patch is ideally superb for the Hosts as Warcraft is excellent at numberous & diversified maps for multi-games & genres.
Features:
- autoload bot_autohostmap# & autohost new games as bot_autohostmap# listed ( mrotate patch), known as map cycling system
Add-ons:
- setting bot_cfgname = 1 (enable, 0 to disable) allows you to name new game as the mapcfg name, for example (10) CastleFight3vs3am.cfg, newgame's name will be CastleFight3vs3am
- hidden setting allows you to place apple icon in the name
- fix the autostart for the maps/games which have less players than default bot_autohostautostartplayers value
Manual Patching is recommended. Use your copy & pasting skills,

- row : means to delete row in your current cpp or h file
+ row: insert it to your file
Not sure about patching? Give
[You must be registered and logged in to see this link.]
a reference
More infos & patches at
[You must be registered and logged in to see this link.]
Comments & advices are welcome.
Many thanks to ukaf.b.
The add-ons from Gen.
PLS get back to this thread and give some feedbacks after your patching, testing, hosting & playing.
Download Patch file
- - - - - - - - - - - - Your signature - - - - - - - - - - - - -
BUNNY (\__/)
FUNNY (='.'=) TheGenMap. Official Support Forum
GENIE ('')_('') for all games Gen created and much more.
PLS upload your files on DropBox public folder and link them here.
[You must be registered and logged in to see this link.]
Admin





Posts

: 131


Join date

: 2009-08-03



---
Permissions in this forum:
You
cannot
reply to topics in this forum