Hiện bộ gõ=phím F8
PRESS F9 to turn on/off the unicode typing method. Bộ gõ Tiếng Việt kiểu VNI đã mặc định bật, bấm F8 để hiện trạng thái bộ gõ và hiệu chỉnh khi cần.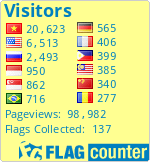 First of all: I observe the whole system checking name & IP, then kick if joinplayer's name & IP matched but many LAN players joined our Host without giving a real IP. That's why the modification allows Ghost to kick if only joinplayer's name matched.
The Ip detection & banning system for IP ban list is totally a different one.
This Patch is working well with GCBI & mySQL database with the fix from GGDragon. It's recommended to have GCBI patched & mySQL used with the fix in another thread by GGDragon.
Reasoning to apply a BAN system
: Banning is ofc tough & critical but banning is reasoned as good here to raise people awareness of not leaving the lobby while other players are about to join. It'd be a time value (30s-1 min, depending how tough you are) set by the owner allowing the system to ban early leavers/quitters who can't afford a little time to wait few ppls to join for a game. When a lobby full of leavers no game will be fired on the host.
Guarantee
: as if you have this patch + GCBI patch + mySQL database used with the fix from GGDragon + you broadcast through GCB (Garena Client BroadCast).
Working > 95% for Garena ppls unless they used fakenames, changed names by some namespoofer & name hacking program.
Features
:
- the fix in bnet.cpp for name detection
- joinplayer's name banned
- 2 days ban for leaver who left the lobby within 30 secs after s/he finished map downloading.
Manual Patching is recommended. Use your copy & pasting skills,

- row : means to delete row in your current cpp or h file
+ row: insert it to your file
Not sure about patching? Give
[You must be registered and logged in to see this link.]
a reference
More infos & patches at
[You must be registered and logged in to see this link.]
Credits
:
to MastaKilla for the fix in bnet, ukaf.b for advices, styler_ro for the modded BAN for leavers, 0x6D48 for comments.
to Gen for generating the whole fit & creating the patch.
Comments & advices are welcome.
but go making the patch yourself before criticizing.
PLS get back to this thread and give some feedbacks after your patching, testing, hosting & playing.
[You must be registered and logged in to see this link.]
- - - - - - - - - - - - Your signature - - - - - - - - - - - - -
BUNNY (\__/)
FUNNY (='.'=) TheGenMap. Official Support Forum
GENIE ('')_('') for all games Gen created and much more.
PLS upload your files on
[You must be registered and logged in to see this link.]
public folder and link them here.
[You must be registered and logged in to see this link.]
Admin





Posts

: 131


Join date

: 2009-08-03





Similar topics
---
Permissions in this forum:
You
cannot
reply to topics in this forum