Hiện bộ gõ=phím F8
PRESS F9 to turn on/off the unicode typing method. Bộ gõ Tiếng Việt kiểu VNI đã mặc định bật, bấm F8 để hiện trạng thái bộ gõ và hiệu chỉnh khi cần.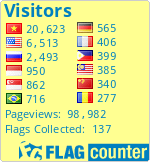 Current date/time is Sun Sep 25, 2022 3:32 am
Today Game
♣ Watch REPLAYS of YOUR Games ♣
Wanna find out your defeat and why you failed in games?, wanna experience your victory again? OR just wanna see how your teammates played with you and use the replays as references for your record?

Click HERE to DOWNLOAD & VIEW them

. Replays will be stored about 2 weeks before getting removed for cleaning up some space for new ones.
♥Current Game♥
Forum Section

Topics
Posts

Last Posts
General

Topics
Posts

Last Posts
Modding, Programming & Hosting

Topics
Posts

Last Posts
Join our board of project and development for the better program and hosting. Make your suggestion for the improvement of the programs here.

Moderator:

Super Moderators

8 Topics
72 Posts

Resources feeding plot. You can find the patches and useful resources here.

Moderator:

Super Moderators

12 Topics
22 Posts

Post your issues here for supports. Using the Gen modded version of GhostOne is recommended.

Moderator:

Super Moderators

29 Topics
123 Posts
Game Mode Section - Nơi hỗ trợ về map & gameplay

Topics
Posts

Last Posts
War3Modding Home for Map-making projects. Nơi bàn bạc, chung tay góp sức cho các map war3 đang làm và cùng nhau test.

Moderator:

Super Moderators

0 Topics
0 Posts

thảo luận về GUI/Jass. We discuss about GUI/Jass & Map technique here. English, Vietnamese & French writing are welcome.

Moderator:

Super Moderators

8 Topics
45 Posts

Room thảo luận chiến thuật đánh và gameplay trong các map Gen. Gameplay discussion for the Gen's maps. La discussion est pour la mode de jeux.

Moderator:

Super Moderators

8 Topics
31 Posts
Warcraft Community - Cộng đồng War

Topics
Posts

Last Posts
Languages

Topics
Posts

Last Posts
In total there are 2 users online :: 0 Registered, 0 Hidden and 2 Guests
Most users ever online was 139 on Wed Oct 02, 2019 6:53 am

Registered Users: None


No users have a birthday today
No users are having a birthday in the upcoming 7 days

Legend : [ Administrators ][ Super Moderators ][ Moderators ][ V.I.P's ][ Members ]
Our users have posted a total of 550 messages
We have 503 registered users
The newest registered user is U[mad
New posts
No new posts
Forum is locked