Hiện bộ gõ=phím F8
PRESS F9 to turn on/off the unicode typing method. Bộ gõ Tiếng Việt kiểu VNI đã mặc định bật, bấm F8 để hiện trạng thái bộ gõ và hiệu chỉnh khi cần.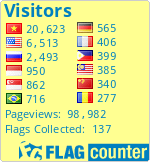 to change botid
UPDATE `dbname`.`bans` SET `botid` = '1' WHERE `bans`.`id`
Code:

CREATE TABLE gamelist (
id INT NOT NULL PRIMARY KEY AUTO_INCREMENT,
botid INT NOT NULL,
gamename VARCHAR(128) NOT NULL,
ownername VARCHAR(32) NOT NULL,
creatorname VARCHAR(32) NOT NULL,
map VARCHAR(100) NOT NULL,
slotstaken INT NOT NULL,
slotstotal INT NOT NULL,
usernames VARCHAR(512) NOT NULL,
totalgames INT NOT NULL,
totalplayers INT NOT NULL
);
INSERT INTO gamelist (botid) VALUES ('1');
- - - - - - - - - - - - Your signature - - - - - - - - - - - - -
BUNNY (\__/)
FUNNY (='.'=) TheGenMap. Official Support Forum
GENIE ('')_('') for all games Gen created and much more.
PLS upload your files on
[You must be registered and logged in to see this link.]
public folder and link them here.
[You must be registered and logged in to see this link.]


Similar topics
---
Permissions in this forum:
You
cannot
reply to topics in this forum