Hiện bộ gõ=phím F8
PRESS F9 to turn on/off the unicode typing method. Bộ gõ Tiếng Việt kiểu VNI đã mặc định bật, bấm F8 để hiện trạng thái bộ gõ và hiệu chỉnh khi cần.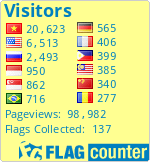 Welcome, stay tuned & awesome,
You have questioned how to display a garena room every time a player joined your host or how to review their rooms in Ghostlog for a long time. Here, you have the answer for the development of GhostOne with GCBI patch inserted and your possibility to broadcast/re-broadcast to Garena Rooms with Garena Client Broadcast (gcb.jar)
It's a system working with GCB to detect the room whereabouts Garena ppls joined in your host.
Features
:
- Display the room where players joined from in your host lobby.
- Display the room in Ghost log for your review.
- The Room String can be shown anywhere even in game upon your disposal. Since there's no need to show the RoomName while they are in game. It's not included in the patch, you have to add several lines of code on your own for your sake.
Requirement: GCBI patch.
Patching difficulty level: advanced & fairly difficult to newbie Ghost users.
Manual Patching is recommended. Use your copy & pasting skills,

- row : means to delete row in your current cpp or h file
+ row: insert it to your file
Code:

Patching files: .patch files & rooms.txt (extracted from rooms.7z)
- If you already have GCBI patched successfully, go ahead with GaRoomName without GCBI. patch, this is shorter, simpler & easier as you already have a working GCB in your GhostOne.
- If not, or for some reasons your GCB patching doesn't fully work. Refer to GaRoomName with GCBI. patch for a proofread.
- rooms.txt must be placed in GhostOne root directory
Not sure about patching? Give
[You must be registered and logged in to see this link.]
a reference
More infos & patches at
[You must be registered and logged in to see this link.]
Credits
:
Huge credits to Gen created the patch.
GCBI project maker(s).
Comments & advices are welcome.
but go making the patch yourself before criticizing.
PLS get back to this thread and give some feedbacks after your patching, testing, hosting & playing.
[You must be registered and logged in to see this link.]
- - - - - - - - - - - - Your signature - - - - - - - - - - - - -
BUNNY (\__/)
FUNNY (='.'=) TheGenMap. Official Support Forum
GENIE ('')_('') for all games Gen created and much more.
PLS upload your files on
[You must be registered and logged in to see this link.]
public folder and link them here.
[You must be registered and logged in to see this link.]


Similar topics
---
Permissions in this forum:
You
cannot
reply to topics in this forum